We no longer make medium Doodles.  Only mini Doodles.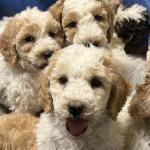 These Doodles were bigger than what I had planned.  Maggie has been rehomed and I have kept her daughters.  They are  expected to be 30lbs and can make the smaller mini Doodles, with my blue eyed merle Dallas. He is AKC mini Poodle and 15lbs.  I can't wait to see the colors we get!!

Gypsy Rose and Poppy

Future mini Labradoodle mommies!  Stay tuned

Double click here to add text.

Penny is a red labradoodle F1b.  Her father is Tobi.  She is 28lbs.  She has been bred to Arthur, 15lbs. They are due with mini Labradoodles F1bb, early April. Both parents have Chocolate in their background.  Hoping for some yummy colors!!